Perth and Surrounds Workshops and Demonstrations
We love sharing our love of encaustics with others. Throughout the year we offer workshops and demonstration in this very versatile medium. Our workshops include encaustic iron and stylus work on encaustic card stock for beginners and more experienced artists. We also offer workshops for those wanting to explore encaustics further on other substrates, in fields such as mixed media, encaustic techniques, tools, and much more. Are you part of an art group or do you have a few friends and want to discover more about encaustics – we also offer workshops and demonstrations on-site too.
Workshops Coming Soon…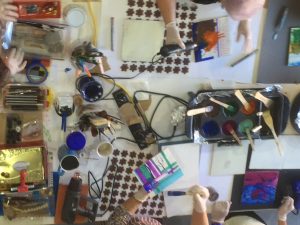 We will supply your panels, paints, tools and mixed media materials. This is a great opportunity for new comers to try encaustics before you invest into a new medium. Participants will leave the workshop with number of painted art pieces and feel inspired to continue their own art journey. WARNING encaustics is very addictive and so very versatile and easy to fall in love with…
All our workshops are hands one with our teachers demonstrating techniques and participants having opportunities to practise their learning. We believe its important for participants to be actively involved in the workshops so we always allow ample time for everyone to experiment with the various techniques, tools and paints.
Demonstrations
We also do onsite demonstrations for interested parties. Our demonstrations include a basic overview of encaustic iron techniques and or panel work.. If you seeking a hands on experience our workshops are ideal. Contact us for more information on 9297 1049.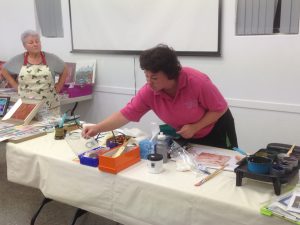 Contact us